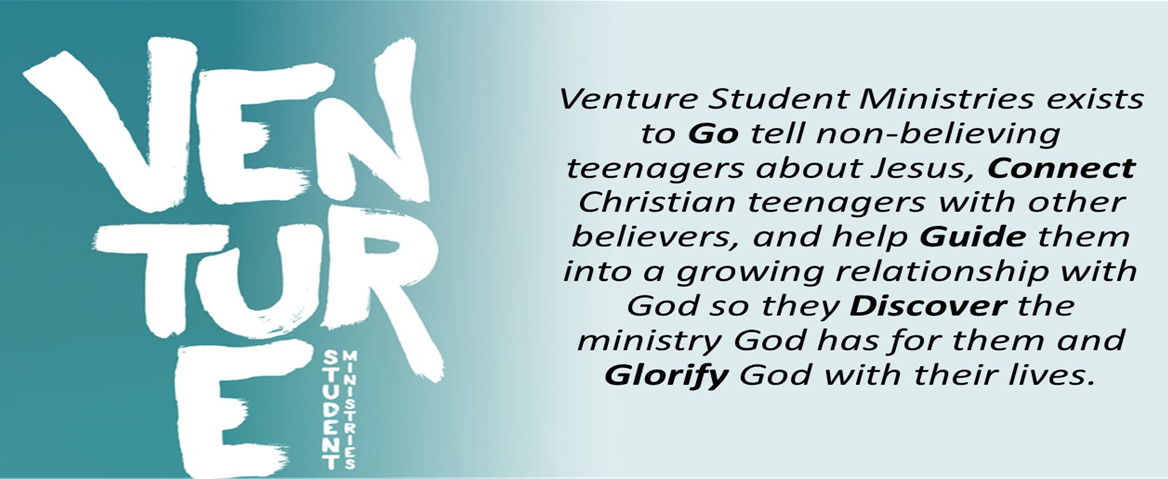 Venture Student Ministries Spring Update

Venture Series: Keep the Change/Fresh Off the Vine
The past few months, Venture Student Ministries has been walking though the book of Galatians. During the "Keep the Change" series, we discussed the motives behind the things we do for God and ultimately concluded that being a Christian isn't just about avoiding sin but actively living for Christ.
Venture Spring Small Groups
Currently, we are in our Small Group series "Fresh off the Vine," where we are breaking down the Fruit of the Spirit. During the nightly message, Julian has been emphasizing how to perform a "Word Search" when seeking to discover what God says about a certain topic. In our small groups, the students are reading scriptures about the Fruit of the Spirit while answering our Bible Study Questions: "What does the passage say about God or Jesus/ What does the passage say about people/ What does the passage challenge me to do."
Spring Bible Study Challenge
Lastly, we are also doing an 11-week Spring Bible Study Challenge. We want teens to develop a love for God's Word (Psalms 119:11). We encourage all students and their parents to participate in the Spring Bible Study Challenge together as we walk through the book of Galatians and study the Fruit of the Spirit. Each week of our Bible Study Challenge is posted on our Venture Student Ministries Instagram.
Engage Camp
We are excited to see what God has in store for us at Engage Camp this summer! The theme of camp this year is Truth (John 14:6). We strongly encourage all students to invite someone to camp this year! Venture Students who get a friend, who has not previously come to Venture, to register for camp will receive a $25 scholarship. There is still time to register your student for camp! More Information about camp and how to register can be found
here
.
We do not want cost to be a barrier for anyone. Read more about how Guide Church is raising money to ensure every teen is able to come to camp! If you have any questions concerning camp cost or other aspects of camp attendance reach out to Julian.
We encourage parents and teens to go ahead and start making payments towards camp. Camp payments should be made online or in-person on Sundays Mornings or Wednesdays Nights. Make sure to designate your funds to "Venture Camp." Students that make payments towards camp of at least $50/month toward camp (every month until camp), will receive a FREE Guide Church Venture Camp 2022 T-Shirt. The deadline for this deal is April 24th!
Venture Teams
At Guide Church, we like to say that "You Are Never More Like Jesus Than When You Are Serving Others" (Matt. 20:28). In Venture, part of our purpose is to transform teens from participants to active members! As a result, we have started
Venture Teams!
There are multiple opportunities for students to serve in Venture. Venture now has a Production team, Baking team, Dinner team, Media team, Game team, Greeting team, and Venture band. If you are interested in serving or want more information reach out to a Venture Leader.
 Worship Wednesdays
On the last Wednesday of every month, we have "
Worship Wednesdays
." One of our purposes for Venture is to provide a place where student can worship God in "Spirit and Truth" (John 4: 24). During Worship Wednesdays, we join in song with our Venture band and hear a testimony from one of our Venture Teens.
 Venture Wins
Three students have accepted Christ and one student went public with their faith in Baptism since the beginning of the year! Continue to pray that we see more teenagers accept Christ and take next steps in their walk with God!